Dentures

Spring Hill, FL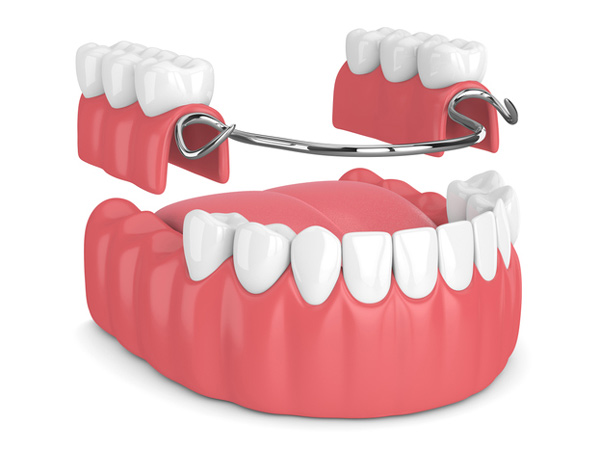 Dentures are a conservative treatment option for those patients with missing teeth. They are a dental appliance constructed to take the place of missing teeth. They are typically supported by the soft and hard tissues of the surrounding oral cavity. While conventional dentures can be removed, there are other designs for dentures which require permanent bonding to surrounding teeth or dental implants. Here at DeLuca, Ressel, & Congemi Dental Care our highly trained staff can place either partial or complete dentures to meet your needs. Contact us to make your appointment now.

Whether tooth loss was due to trauma, advanced tooth decay, or gum disease, dentures are a restorative solution which can give our patients their complete smile back. A partial denture consists of false teeth attached to a plastic appliance which can be connected to a framework. This is considered the best option when the framework can be attached to one or more healthy teeth in either the upper or lower jaw. A precision partial denture is also removable but uses internal devices to attach rather than visible clasps and is more natural in appearance.

There are two types of complete dentures. They can either be conventional or immediate. Both are made after the patient's teeth have already been removed. With the conventional complete denture, the gum tissue is allowed to heal for approximately eight to twelve weeks following tooth extraction before they are placed in the patient's mouth. With immediate dentures they can be positioned as soon as the teeth are removed. This is an added benefit because patients no longer have to wait for months without teeth. They no longer have to feel self-conscious about it. An important note to make is that while they are placed immediately, they may require additional appointments because as the gum tissue heals it may shift and shrink meaning the dentures would need to be adjusted and reshaped.


Reasons for Dentures

Following tooth loss, many patients feel self-conscious about their appearance, no longer feeling comfortable socializing and entertaining. Changing looks can occur as a patient loses more teeth over time. Typically, this spans years. Many people suffer from embarrassment, so they no longer enjoy conversation, laughing or smiling. With missing teeth, it also becomes more difficult to chew and eat the foods patients once enjoyed.

The supporting bone structure of teeth greatly impacts a patient's appearance. Cheeks can sag and facial structure can droop. Dentures not only provide the missing bone structure but also restore a patient's natural smile, allowing them to feel less self-conscious and get back to enjoying their lifestyle. It also allows them to eat the foods they enjoy without worry.


How Long Do Dentures Last?

The American Dental Association recommends replacing dentures every five to seven years. This is to maintain proper fit and appearance. Denture teeth can actually erode and wear more quickly than natural teeth. The underlying soft tissues in the patient's mouth may also change, requiring the dentures to be adjusted or replaced accordingly.


Just because you have dentures doesn't mean that you are immune to plaque and tartar. Regular care and maintenance, both at home and with a professional hygienist, are key to keeping your denture in good shape.


The primary distinction between dentures and dental implants is their permanence. Dentures are removable appliances that need to be taken out when eating, brushing, and sleeping. Dentures are fragile and may need to be updated. Meanwhile, dental implants are permanent appliances, surgically placed in your mouth.

Let our office team at DeLuca, Ressel, & Congemi Dental Care place a set of partial or complete dentures for you. Call us at (352) 666-9898 to schedule an appointment or visit during normal office hours so we can help you.